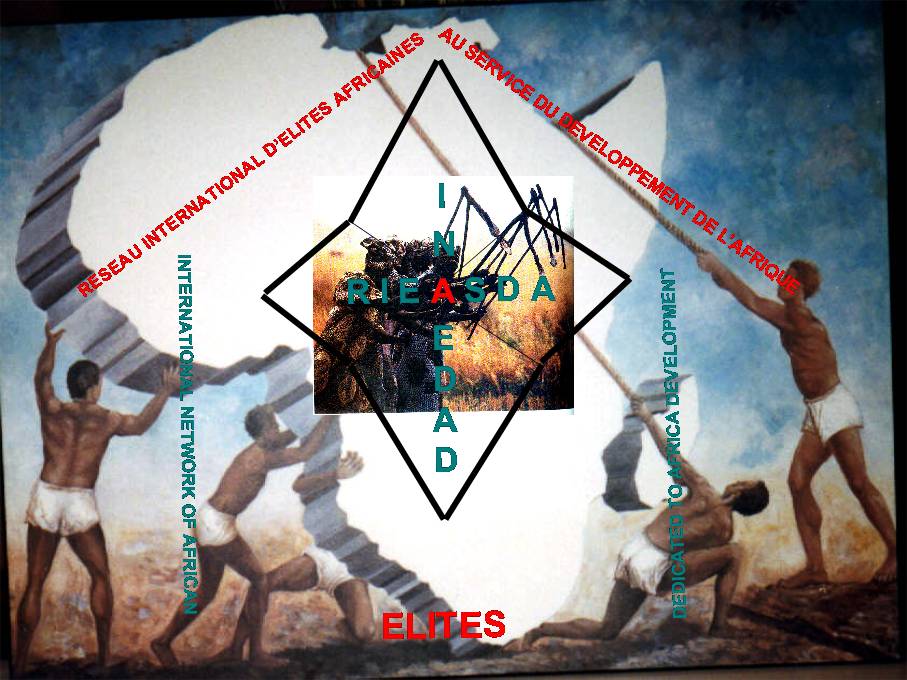 Together we can overcome the outbreak of AIDS and achieve more. Information and will are the keys. Ignorance and Silence are the handicap.
"If you think you are too small to have an impact, try going to bed with a mosquito in the room"
Anita Koddick
"The real wealth of a nation is its people. The aim of politics and the purpose of development is to create an enabling environment for people to enjoy long, healthy and creative lives. This simple but powerful truth is too often forgotten in the pursuit of material and financial wealth."
Those are the opening lines of the first United Nations's Human Development Report, published in 1990. The 2002 Human Development Report shows growing divisions between those who prosper in this new world -- and those who do not.
---
"Each day in the developing world, more than 30,000 children die from mostly preventable and treatable causes such as diarrhea, acute respiratory infections, measles or malaria. These diseases are far more deadly to children who are stunted or underweight. 12 million people die each year from lack of water, including 3 million children from waterborne disease: 1.1 billion lack access to clean water; 2.4 billion live without decent sanitation; and 4 billion without wastewater disposal".
"The level of inequality worldwide is grotesque."
Source: http://hdr.undp.org/
"Most of human suffering and misery is due to Human Beings preying upon one another, indifferent to the suffering and misery of others as they pursue the fulfillment of their selfish desires and hatreds related to the acquisition of personal wealth, resources, land, power, control".
LIBERIA
The first African woman elected president, pledged to fight corruption and create jobs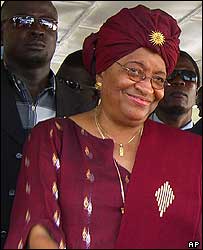 Source: BBC
Liberia's president-elect has pledged to make women across the world "proud", after becoming Africa's first elected female head of state.
Ellen Johnson-Sirleaf said her election victory had "shattered the glass ceiling theory". Addressing the nation after her win was confirmed, she promised to usher in a new era after 14 years of war....More
---
Crowds cheer Senegal peace deal
Thursday, 30 December, 2004, 18:22 GMT
Source: BBC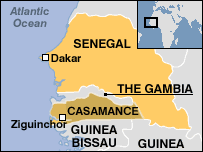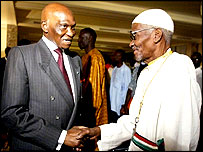 President Wade has made peace a priority of his presidency
Senegal's government has signed a peace deal with separatist rebels in Casamance, ending one of West Africa's longest-running wars.
Lire plus
---
Blair calls for action on Africa
Source: BBC
Blair said there would soon be "no more excuses"
British Prime Minister Tony Blair has appealed to the world to do more to help Africa out of poverty. At a meeting of his Commission for Africa, in Ethiopia, he vowed to put the continent at the top of the agenda when Britain chaired the G8 next year. It was "a tremendous opportunity to put before the international community a plan for Africa", he told the BBC.
The Commission for Africa was set up to look at issues such as development aid, fair trade and debt relief...More
---
Public money or fund must be invested in public infrastructures for the sake of all tax payers. Everybody benefit from such investment. Corruption deprives not only the innocent masses but also the relatives and those who are involved in this malpractice. This is one of the depressing features of corruption.
Comment: INAEDAD-RIEASDA
The following is an excerpt from a speech at a meeting at the South African Institute of International Affairs headed by Moeletsi Mbeki
Source: BBC
Moeletsi Mbeki accused African elites of stealing money and keeping it abroad, while colonial rulers planted crops and built roads and cities. "This is one of the depressing features of Africa," he said.
He said that while China had lifted some 400,000 people out of poverty in the past 20 years, Nigeria had pushed 71 million people below the poverty line.
"The average African is poorer than during the age of colonialism. In the 1960s African elites/rulers, instead of focusing on development, took surplus for their own enormous entourages of civil servants without ploughing anything back into the country," he said.
In July, a United Nations report said that Africa was the only continent where poverty had increased in the past 20 years.
---
African poverty crisis and causes are well known and are due to corruption of selfish people who have no respect and care of collectvities but their own selfish wealth. There is no embarassment fighting corruption and corrupted leaders.
Comment by Inaedad on Africa's poverty issue
African Poverty Crisis, an Embarrassment, Says Obasanjo
From Chris Nwachuku and Juliana Taiwo in Ouagadougou
Source: Africadaily
--------------------------------------------------------------------------------
President Olusegun Obasanjo yesterday said the endemic poverty in Africa as well as the deepening unemployment situation constitute a continental embarassment. Speaking at the extra-ordinary summit of African Union on Employment and Poverty Alleviation in Ouagadougou, Obasanjo urged African leaders to adopt far-reaching and comprehensive reforms built around people to reposition the continent. He also warned the rich against displaying indifference in the face of poverty crises and its attendent security implications.
He added that the leadership corps in the continent must shy away from rhetoric and demonstrate fresh political will to tackle the problem which poses one of the greatest security threat to the continent. According to him, "We must admit that at some level, this is an embarrassing scorecard for a continent that is so richly endowed with some of the most creative and hardworking people in the world."
Obasanjo highlighted the causes of the "gloomy picture of poverty and employment situations" as low or no economic growth, bad economic and political governance, conflicts, high population growth, deteriorating health, poor social conditions, debt overhang as well as environmental degradation among others. He noted that the continent will continue to face serious challenges unless more determined efforts and well co-ordinated programmes on a sustainable level are developed. "We all know what is required of us; far reaching and comprehensive programmes reforms built around the people and designed to position our countries and continent for growth, stability, democracy and development. We cannot run away from this reality and unless we reform no amount of rhetoric or half measures will turn round the fate and fortunes of Africa", he said....More
---
World commemorates end of slavery

Note from INAEDAD: The following image and the comment are excerpted from BBC. We want to ensure that history should not be falsified and even if slavery is slavery whatever forms its come with, the "unprecedented tragedy" which has humiliated and depleted Africa from its inhabitants should not be confused with any actual form of slavery. We want to forgive but not to forget. The commemoration of the end of slavery should not bring at the front line the "participation or contribution" of Africans themselves in this shameful and degrading trade of human beings. Initiating and Participating countries in these tragedies should make the front line of the comments, and pictures of their deeds should be publicized. It is worth knowing the source, date and the author of this picture!.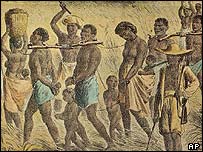 The UN says slavery has taken on new forms
Events are being held worldwide to mark the abolition of the slave trade and to highlight the fact that millions still live as slaves in all but name.
The United Nations is leading the celebrations in Paris, while a new slavery museum is to open in the US state of Ohio later on Monday. Senegal is holding a commemoration on Goree Island, once a major transit centre for the slave trade. A UN official said the full extent of slavery had still to be recognised...More
---
New life in US for Somali Bantus

By Leslie Goffe
BBC correspondent in New York

Muya Malande's family were among the first Bantus to arrive in the US
Identified by the US government as suffering a persistent pattern of physical abuse and racial discrimination at the hands of lighter skinned Somalis, Somali Bantus, whose ancestors were kidnapped and brought to northern Africa as slaves from southern Africa 200 years ago, have been given a fresh start abroad....More
---
Migrants die on journey to Italy

More than 70 survivors were rescued by a freighter off the coast of Sicily.
The migrants said they had been at sea for nine days, but a quarter of those on board died on the way, and the survivors threw their bodies overboard.
The Italian authorities believe the boat began its journey in Libya. Those on board were mainly from Sudan, Sierra Leone, Liberia and Ivory Coast.
"My son didn't make it. I had to abandon him in the sea," one survivor told Ansa news agency...More
---
AFRICANS SEEKING SOLUTION TO IVORY COAST CONFLICT: TIME TO RESOLVE OUR PROBLEMS IN AN AFRICAN WAY!?.
Ivorian signs peace deal in Accra

Ivorian rebels must now start disarming by mid-October
Former rebels and opposition figures in Ivory Coast have signed a deal to rejoin the government...More

---
Annan addresses West African summit on Côte d'Ivoire
29 July 2004 – Addressing a West African summit in Ghana, United Nations Secretary-General Kofi Annan today appealed to the opposing parties in Côte d'Ivoire to use the meeting to break the present deadlock in the peace process and to speak candidly about any contentious issues. "I look to you to put aside partisan and personal interests and work together in a spirit of commitment and compromise," he told the Ivorian representatives at the meeting of 12 heads of member countries of the Economic Community of West African States (ECOWAS). "Only in this way can you forge the political consensus needed to move forward on the implementation of the Linas-Marcoussis Agreement," he said, referring to an accord reached last year in France which he called "the roadmap for resolving the crisis, and bringing an end to the long and deep suffering of the people of Côte d'Ivoire." He reminded all Ivoirian parties that they should shoulder responsibility for ensuring unconditional implementation of the peace agreement, adding that the United Nations needed full cooperation from both leaders and people "to allow us to provide maximum support for your efforts to restore peace and stability."..More
---
IT IS TIME TO TALK ABOUT AFRICAN LANGUAGES
CHEICK ANTA DIOP'S REBIRTH!?
CHEICK ANTA DIOP WAS RIGHT?!
"What the African can never express, until he abandons the use of foreign languages, is the peculiar genius of his own languages. This is one of the dramatic problems of our culture: that we must express ourselves in a foreign language or keep quiet.
"The development of our indigenous languages is the perequesite for a real African renaissance. One learn better in one's own language because there is incontrovertible agreement between the genius of a language and the mentality of its speaker. Moreover learning in one's own language evidently saves many years that would otherwise have been wasted in knowledge acquisition (through a foreign language).
To the allegation that the masses are uncultured and cannot read, we answer: It is easier to teach them an alphabet than a foreign language. There are in Africa not six hundreds but only four languages capable of being developed to become instruments for the expression of the entire African thought. And this only requires will-power, frimness and determination on the part of Africans to liberate themselves intellectually and morally".
Extirped from : TOWARDS THE AFRICAN RENAISSANCE
ESSAYS IN CULTURE AND DEVELOPMENT
CHEICK ANTA DIOP
(inaedad-rieasda)
---
TOWARDS THE AFRICAN RENAISSANCE
Swahili baffles African leaders !!!

(Few African leaders could understand the Swahili )
A summit of African leaders was thrown into confusion (!!!) when Mozambique's president addressed the meeting in an African language - Swahili.
Officials scrambled around looking for interpreters and President Joaquim Chissano offered to translate himself. The African Union uses Arabic, French, English and Portuguese in its summits. Mr Chissano said he made his farewell address as AU chairman in Swahili to further the AU pledge to promote African identity and languages. Swahili is spoken by around 100 million people in East Africa and there are moves to add it to the list of official languages. But Mr Chissano is not a native Swahili-speaker. Reuters news agency reports that most African leaders and ambassadors were baffled, unable to understand what he was saying. After his speech, Sudan's ambassador to Ethiopia announced that Nigeria's Olusegun Obasanjo had been elected as the next AU chairman, noting that his speech would be in "another African language" - Arabic...More
---
Africa 'should not pay its debts'

(Africa's development goals are not being met, WHY??)

A special adviser to the United Nations secretary general Kofi Annan has said African countries should refuse to repay their foreign debts.
Mr Annan's economic adviser Jeffrey Sachs first called on developed countries to cancel Africa's debts. But failing that, he said Africa should ignore its $201bn (£109bn) debt burden. Economic analysis, he said, had shown that it was impossible for Africa to achieve its development goal of halving poverty if it had to repay the loans. "The time has come to end this charade," he said. "The debts are unaffordable. If they won't cancel the debts I would suggest obstruction; you do it yourselves." 'A serious response': "Africa should say: 'thank you very much but we need this money to meet the needs of children who are dying right now so we will put the debt servicing payments into urgent social investment in health, education, drinking water, control of aids and other needs,'" he told the BBC's World Business Report.
Mr Sachs insisted that such a response was serious and responsible, providing that the money was used transparently and channelled only into urgent social needs... Read More

---
GHANA
Ghanaian Traditional Chief Cites Intolerance as Major Cause of Conflict in Africa

Religious Leaders Uniquely Placed to Advance Peace
28.06.2004
Source: Lutheran World Information

HO, Ghana/GENEVA, 28 June 2004 (LWI) – Ghanaian Paramount Chief Togbe Afede XIV, has appealed for tolerance and reciprocal respect among Africa's peoples, saying conflict was one reason why the continent had grown poorer over the past 25 years. The regional leader of Ho-Asogli state in the Volta region, urged African governments to endeavor to strengthen peace by working toward a more equal and just society. In a candid presentation during the opening session of the West African Inter-Faith Peace Summit in Ghana's northeastern city of Ho, Afede XIV cited tribalism, intolerance, poverty, excessive politicization of governance and corruption as some of the most significant causes of conflicts in Africa. "While we work for the resolution of the various conflicts in Africa, it is important that we do not forget to work toward the prevention of conflict in areas where there is a semblance of peace," Afede XIV told religious representatives attending the June 23-24 summit organized by the Inter-Faith Action for Peace in Africa (IFAPA)... More
---
UN
Present world trade imbalances are discriminatory, Annan says
Annan at opening of UNCTAD XI, 14 June 2004
The world could improve living standards for all because it now has the experience, the technologies, the unprecedented consensus around the Millennium Development Goals (MDGs) seeking to halve extreme poverty by 2015 and the beginning of a global economic recovery, he said...Pointing to the lack of coherence, Mr. Annan said Asian entrepreneurs trying to take advantage of a new market opportunity in a rich country, might find that their roads were inadequate for the trucks that would have to carry their exports to local ports... An African farmer might find that duty-free access to global markets has been nullified by requirements for sophisticated packaging, or by the financial and marketing impact of subsidies paid to competitors in wealthier countries. The indigenous producer of medicinal herbs in Latin America might not know whether his peoples would be fairly rewarded, he said... New resources would help countries to rely on themselves and would be an investment in the future well-being and security of the world, he said. .. More
---
UNCTAD INTERACTIVE SESSIONS EXPLORE LINKS BETWEEN TRADE AND POVERTY, ECONOMIC DEVELOPMENT AND CAPITAL ACCUMULATION
SÃO PAULO, 14 June
Rubens Ricupero, Secretary-General of UNCTAD, said: "We are too aware of the anxiety and suffering caused by footloose capital, deindustrialization, delocalization of jobs and industries and recent outsourcing of services, to ignore it", he added. Such action should not be neutral in terms of values, but aim instead at creating more equity. That was the moral commitment that had always been the force and inspiration of UNCTAD, a voice for the weak, the poorest among the poor and the disadvantaged"... More
---
AFRICAN UNION
ANOTHER MOVE AFTER THE PARLIAMENT SET UP. DO NOT STOP THE MOVE FOR THE SAKE OF INNOCENT MASSES. LET US GO NOW BEYONG CONFERENCES AND TALKS. THE GENERATION TO COME WILL JUDGE ALL OF US BY OUR WILL AND ACTION TOWARDS THE CONTINENT.
(INAEDAD-RIEASDA)
African leaders have launched the Peace and Security Council of the African Union, in Ethiopia.

Source: BBC
Its mission is to deal with the main problem facing African nations since they achieved independence - war between nations and within nations. The council's objective will be to work towards a common defence policy and develop a united defence force.
"No one will bring peace to Africa in the place of Africans", said the commission's chairman, Alpha Oumar Konare...More.
---
KENYA
THE WILL OF A 84 AGED MAN
WHAT IF THEY ALL WERE ABLE TO READ AND DECIDE FOR THEMSELVES? LET US GIVE THEM THE RIGTH INFORMATION TO DO SO. IT IS THE DUTY OF EACH OF US. IT IS A PATH TO RENAISSANCE.
(INAEDAD-RIEASDA)
Kenya's Kimani Nganga Maruge hit the headlines around the world earlier this year for being the oldest man in Kenya to start school - aged 84.
Source BBC.
He said one of his main aims for starting school was to learn to count the money he expects to receive in compensation from the authorities for fighting against the British. He says he also hopes to learn to read the Bible - because he does not trust the version he hears each week in church... More
---
GUINEA
Guinea premier steps down.




Guinea Prime Minister Lounseny Fall has resigned, while on a visit to New York. (BBC)
During an earlier stopover in Paris, he told the weekly Jeune Afrique-L'Intelligent that he was resigning because President Lansana Conte did not give him enough room for manoeuvre to salvage the Guinean economy.
A BBC correspondent in Guinea says it is likely that the minister announced his resignation from abroad because he feared for his safety and that of his family.
Mr Fall was appointed to his post in February.
Last year, as Guinea's foreign minister, he was his country's ambassador to the UN when Guinea presided the UN security council ahead of the war in Iraq... More
---
An African chief stands against AIDS -
Swaziland
Source: ICRC
"I had to take a stand," he says. "I see more and more people dying, more and more falling ill and being unable to work their land. It causes great distress and poverty. More
---
SOUTH AFRICA
Mbeki tackles AIDS

Source: Reuters

Johannesburg: The world's biggest AIDS treatment plan gets a boost this week as five pilot hospitals in South Africa's richest province roll out life-saving anti-retroviral medication... More
---
Annan Urges Media Leaders to Use Influenceto Spread Information in Fight Against AIDS

United Nations (New York) January 15, 2004
Annan with media executives at the launch of the Global Aids Initiative.
"If there is one thing that we have learned in the two decades of this epidemic, it is that in the world of AIDS, silence is death... More
The parliament with MPs from 53 member states of the African Union has been officially inaugurated in Addis Ababa, Ethiopia.
The parliament with MPs from 53 member states of the African Union has been officially inaugurated in Addis Ababa, Ethiopia.
Commission chairman Alpha Oumar Konare said the members will craft the political road map of the continent. The union was set up in 2002, as a successor to the Organisation of African Unity (OAU). Only 190 MPs from 38 countries were sworn in at the official inauguration, attended by the current chairman of the AU President Joaquim Chissano of Mozambique.
The MPs will meet at the first session to decide on the permanent base of the parliament. Egypt and South Africa have offered to host the legislative body. But the parliament will only advise the heads of state of the African Union, prompting criticism that it will become just another talking shop.
The MPs elected a Tanzanian - Gertrude Mongella - as their speaker.
At least 14 suspected immigrants have drowned at sea off the coast of Spain's Canary Islands, police say.
The passengers - all thought to be from sub-Saharan Africa - were travelling in a makeshift boat when it collided with another vessel, police said...More